MP159 Round Bar & Rods
Most Preferred Manufacturer of MP159® alloy steel bar is a nickel, chromium, cobalt alloy, Suppliers & Stockist of MP159 Round Bar, Exporter of premium quality MP159 Products in Mumbai, India.
MP159 Round Bar Stokist, MP159 Rod Supplier, MP159 Flat Bar Manufacturers, MP159 Polished Round Bar, MP159 Bar Manufacturer
Jaydeep Steels is the most preferred manufacturer, supplier, exporter and stockist of supreme quality MP159 Round Bar in different specifications, dimensions, types, forms and sizes. We manufacture these products by using high-quality raw materials and modern technology as per Indian as well as International standards. Our MP159 Bars & Rods are more popular among our existing customers.
MP159 Polished Round Bar content higher percentage of chromium, nickel and molybdenum and a lower percentage of carbon which offers excellent corrosion & oxidation resistance and good weldability & formability. As they having good formability and weldability, R60702 Bars are available in various forms such as MP159 Round Bars, MP159 Hex Bars, MP159 Bars, MP159 flat Bars and many more.
Dealer of MP159 Imported Rod, MP159 Flat Bar Supplier, MP159 Bright Bar, MP159 Flat Bar, MP159 Round Bars Manufacturer, MP159 Wire Exporter
Moreover, MP159 Round Bar are available in non-magnetic in annealed conditions at our stock. MP35 Bars & Rods will harden by using cold working but cannot be hardened by the hot working process. Our high-quality products are broadly used in oil & gas, chemical, condensers, paper & pulp industries. Our MP35N Bars & Rods offer high-temperature tensile strength, creep and rupture strength.
We provide MP159 Rods & Bars products in standard as well as customize dimensions as per the client's requirement. Please Contact us to get a FREE estimation. We have a dedicated support team who helps you to choose perfect products for your application at an affordable cost.
MP159 Bars & Rods Specification
| | |
| --- | --- |
| Item Name | MP159 |
| Standard | UNS R30159 |
| Strength | 1100 F |
MP159 Bars & Rods Chemical Composition
| | | | | | | | | |
| --- | --- | --- | --- | --- | --- | --- | --- | --- |
| MP159 | Co | Ni | Cr | Fe | Mo | Ti | Nb | AL |
| Typical | 35.7 | 25.5 | 19 | 9 | 7 | 3 | 0.6 | 0.2 |
MP159 High Strength Data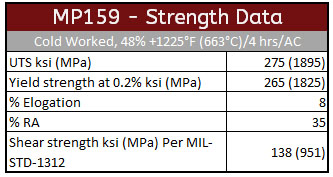 Pricelist of MP159 Round Bars & Rods
Jaydeep Steels is one of the most competitive suppliers of bars and rods from India. Our prices for MP159 Bars & Rods are very competitive. Please click on the request a quote button or click here to request the updated price list and ready stock information along with your requirement. Jaydeep Steels maintains a stock of all standard items and can export them at the best price for MP159 Round Bars & Rods.
MP159 Round Bars & Rods - Industries & Applications
Our Bars & Rods are used in a wide range of applications and various industries. Below are a few of them:
Gas Processing Industries
Petrochemical Industries
Power Generation Industries
Food Processing Industries
Chemical Industries
Oil & Gas Industries
Fertilizers Industries
Sugar Industries
Available Stock of MP159 Round Bars & Rods
We maintain huge inventories of all standard sizes and grades. Please send us your complete requirement and we will send you the availability with the best quote for MP35N Round Bars & Rods.
How to Buy MP159 Bars & Rods
Jaydeep Steels is a leading stockist, distributor, and supplier of MP159 Round Bars & Rods from India. We maintain huge stocks and you can easily buy MP159 Bars & Rods and other forms of Bars & Rods at one of the best prices. Please use the contact button or click here to send us your requirement to Buy MP159 Round Bars & Rods from Jaydeep Steels.
MP159 Round Bars & Rods Exporter:
Exporting MP159 Round Bars & Rods to Singapore, Malaysia, Hongkong, Thailand, Indonesia, Taiwan. Other countries includes  Afghanistan, Albania, Andorra, Austria, Bahrain, Bangladesh, Bhutan, Brunei, Belarus, Belgium, Bulgaria, Cambodia, China, Cyprus, Croatia, Czech Republic, Denmark, Estonia, Egypt, Finland, France, Germany, Greece, Georgia, Hungary, Iceland, Ireland, Italy,  Iran, Iraq, Israel, Japan, Jordan, Kazakhstan, Kuwait, Kyrgyzstan, Lebanon, Latvia, Latin America, Liechtenstein, Lithuania, Luxembourg, Malta, Moldova, Monaco, Maldives, Mongolia, Myanmar (Burma), Nepal, North Korea, Netherlands, Norway, Oman, Poland, Portugal, Pakistan, Palestine, Philippines, Qatar, Russia, Romania, Russia, San Marino, Serbia and Montenegro, Slovakia, Slovenia, Spain, Sweden, Switzerland, Saudi Arabia,  South Korea, South Africa, Sri Lanka, Syria,  Tanzania, Tajikistan, Thailand, Turkey, Turkmenistan, Ukraine, United Kingdom, United Arab Emirates (UAE), Uzbekistan, Vietnam, Yemen.
Request a Quote
Get in touch with us today to get the best quote for your requirement. We can assure you of the most competitive prices.